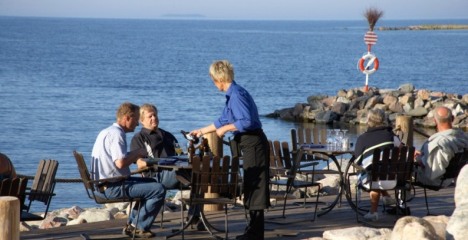 Welcome
Furuviks Brygga is a fish restaurant which is located about 150 kilometres north from Stockholm, on the border between the two provinces Uppland and Gästrikland, in Furuvik. The fish restaurant is beautifully situated just a few metres from the Golf of Bothnia. A combined zoo and adventure park called "Furuviksparken" and a camping ground, lie next to the restaurant. The menu consists mainly of different fish dishes; meat courses and vegetarian courses are however also served.
The restaurant, which consists of four separate parts, is adapated to conferences and events like weddings, private parties etc.
Furuviks Brygga is this year 2017 opened from the 14th of March to the 23rd of September; it is also opened for the special Swedish Christmas smorgasbord buffet which begins at the 18th of November and ends the 22nd of December. During the rest of the year, the restaurant is opened for large orders.
Click on "Contact us" above, to get information on how to contact Furuviks Brygga. Click on "Menu" in order to see the menu in English.
Click here to get a map
which shows the location of Furuviks Brygga.